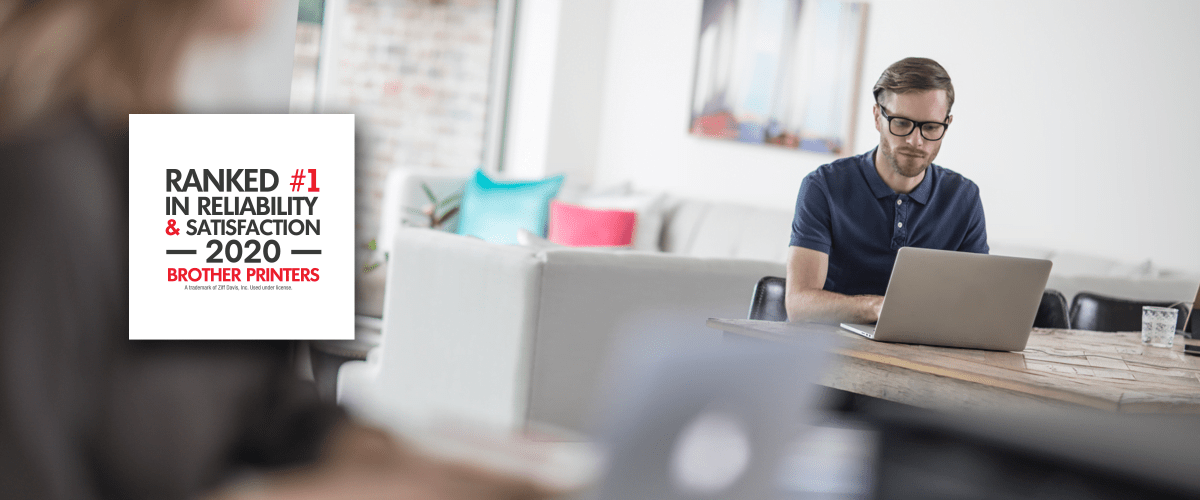 Brother printers are still tops among PCMag readers
for 12 years in a row
Brother Printers and All-in-Ones received PCMag Readers' Choice Award for the 12th Consecutive Year, and the Business Choice Award for the Eighth Consecutive Year.
Tshwane, August, 26th, 2020 – Brother has long dominated the PCMag annual awards and we are pleased to report that in 2020 we have scored overall customer satisfaction of 8.8 and 8.5 for readers and business users respectively. Brother was awarded its 12th consecutive Readers' Choice Award for home printers and its eighth consecutive Business Choice Award for office printers.
8 YEARS IN A ROW
PC Mag Business Choice Award 2020 for Printers
"When you need a business printer, be it in a skyscraper or home office, you need easy setup, reliable performance, the knowledge you can get it repaired or easily supported, and speed and quality to spare. Only one brand handles all that and more, according to PCMag readers.
Brother has long dominated the PCMag Business Choice survey for printers. Since we started rating business printers in 2013, Brother has shared the top spot a few times, but not this year. Epson, which came in second, earned some excellent numbers, but Brother stands alone in the most important categories—overall satisfaction (8.5 out of 10) and the likelihood to be recommended to others (8.6).
For every year we've run the PCMag Business Choice survey for printers, Brother has come out on top. It's our readers' favourite brand for home or work printing, but for business use in particular, Brother printers really shine against some incredibly strong competition."
But don't take our word for it read the story here.
READ THE FULL STORY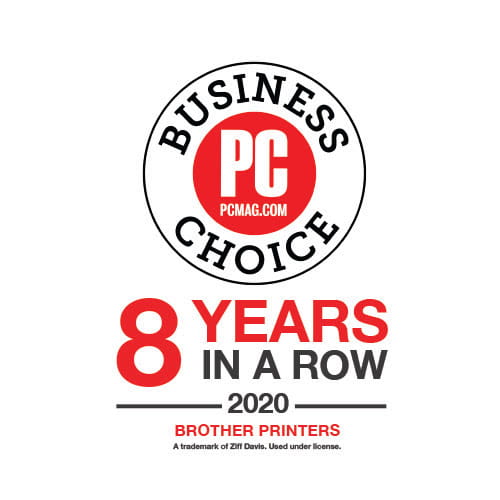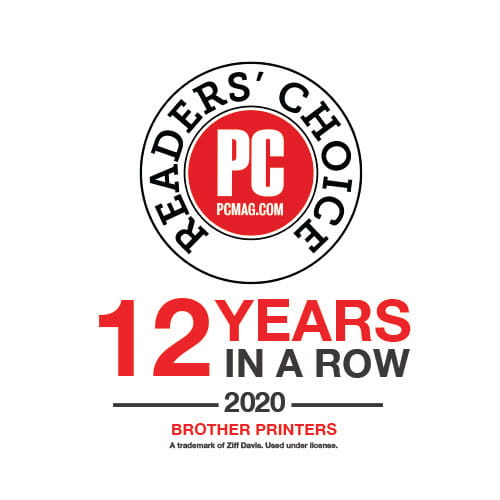 12 YEARS IN A ROW
PC Mag Readers Choice Award 2020 for Printers
"For the 12th year in a row, Brother is the most beloved printer brand among PCMag readers. It has been on top in every Readers' Choice survey we've done since 2009, an unprecedented achievement. If you need a printer, it's clear that Brother devices get the job done.
You read that right, a dozen years. This Readers' Choice survey has become a love letter from PCMag readers to Brother International. If there's any knock against the company in the results it's that Brother's 8.9 out of 10 high score for overall satisfaction from last year has dropped—but only by a tenth of a point to a still-stellar 8.8. As knocks go, that's the faintest ever heard.
Look across the categories we ask readers to rate, and Brother is on top in almost all of them. Standout scores include a 9.0 for reliability, 8.9 for paper handling, 8.8 for ease of use, 9.0 for copier functions (when the unit is a multi-function, aka all-in-one device), and an 8.9 for the likelihood to be recommended to others."
Read the full story
READ THE FULL STORY
About PC Magazine
For more than 35 years, PCMag has been the leading authority on technology buying, delivering independent reviews of more than 2,500 products per year. PC Labs, our 5,000-square-foot testing facility in New York City, is where our experienced staff develops and performs accurate and reproducible testing that helps us identify the best (and worst) products so our readers can make the smartest buying decisions. The PCMag Editors' Choice award, our highest endorsement, is recognized globally as a trusted symbol for buyers and sellers of technology products and services.
Brother International South Africa
Brother is a leader in the development and manufacturing of technologies in the printing, scanning, labelling, sewing and crafting industries for home, SME and Corporate markets. A trusted brand worldwide that believes in the "Customer First" approach in all aspect of our business, Brother has continuously met the varied needs of our customers through our comprehensive range of technology solutions.
Brother International South Africa (Pty) Ltd is the regional sales office for South Africa and markets a range of products manufactured by its parent company, Brother Industries, Ltd. of Nagoya, Japan. Established in 1970, Brother International South Africa (Pty) Ltd manages an extensive network of distributors in both domestic and Sub Saharan markets.
Brother's printing business is committed to the advancement of technologies and "work style innovation" and constantly strives to pioneer new technologies and improve product quality. The different types of technology Brother offers are convenient to use and helps streamline workflow and efficiency in corporate, SME and home environments.
About Brother Earth
Brother always takes responsibility, acts respectfully and tries to make a positive difference. Brother Earth is Brother's attitude and commitment to play a part in building a society with sustainable development. Help the environment now by giving a click at http://www.brotherearth.com. Brother will contribute to a variety of global environmental protection activities on your behalf. The number of clicks each project receives will determine proportionately how the funds will be allocated.