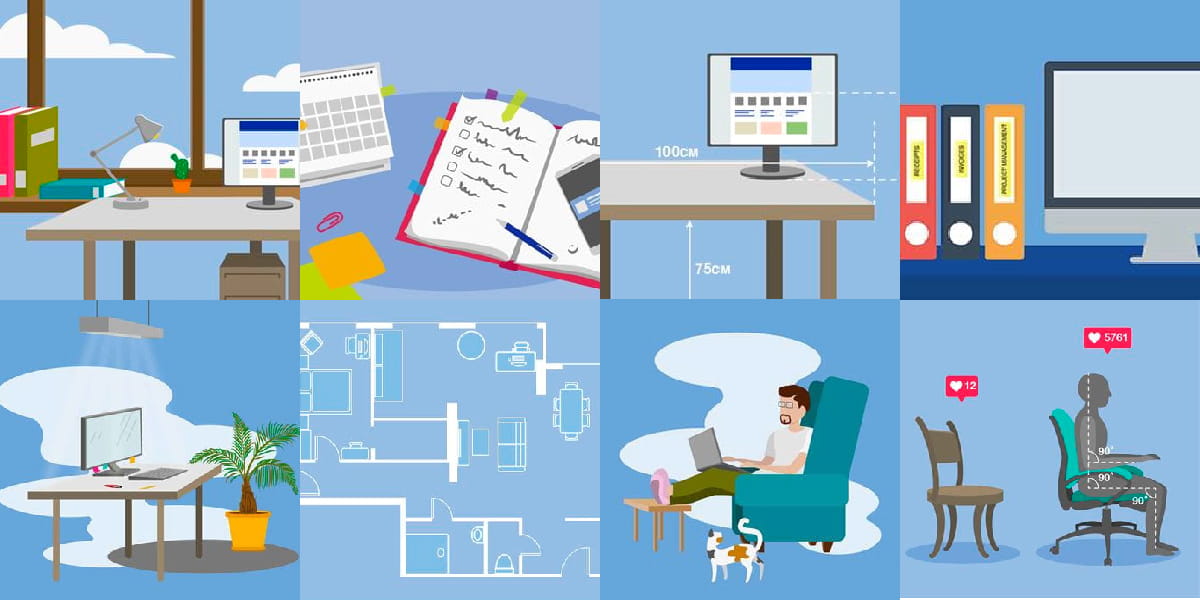 Home offices are now the new normal
Knowing the key factors in making your office space a success is vital
For many of us the home office has changed from a nice-to-have to an essential for continuing to work from home. But what are the key factors in successfully setting up a productive home office? We have set up a list of factors below.
How to set up a home office – workspace ergonomics
Without sounding like a Feng Shui manual, having your equipment, furniture and environment working in harmony is fundamental to getting the most out of your home office. From the right choice of desk and chair to how you light them, you'll notice a huge difference in your ability to sustain productive levels of working if you get things right.
The perfect home office desk setup
Depending on whether you'll be using your desk to prop up your laptop for a full day of videoconferencing or typing up that new 60-page return to work manual, there are a few key considerations to weigh up. Here are tips to  select and set up your desk:
Your desk should be at least 60cm deep and 100cm wide – allowing space to type, write and work comfortably
Connect your laptop to a monitor, if possible,  at the level of your eyes to reduce strain on your neck.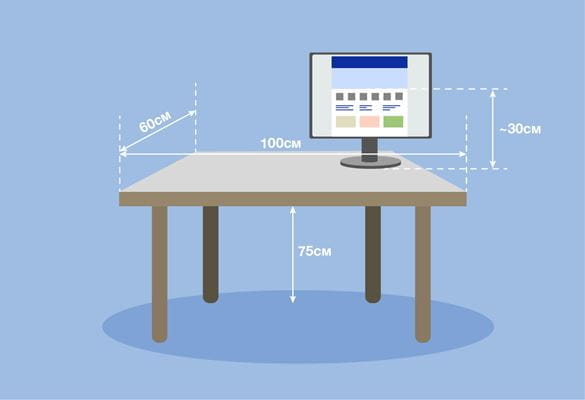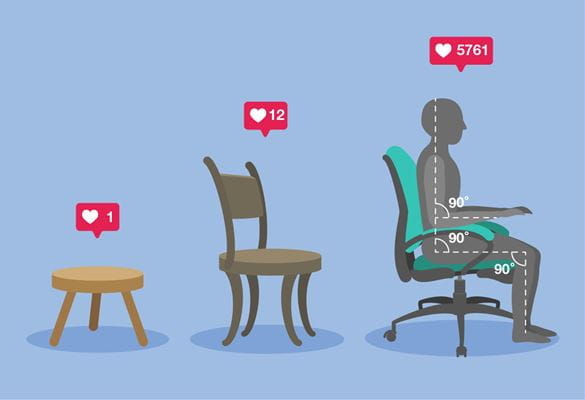 Home office chair selection
The correct support is vital to maintaining good posture and reducing the physical impact of working at your desk.
Choose a seat with height and tilt adjustment capability
Adjust the height of the seat so that your hips are parallel to the floor
Choose a chair with lower back support – to reduces the stress across the entire back
Your elbows and wrists should be placed in line
Lighting your home office
There is no substitute for natural lighting, so arranging your workspace near to a window is your best option, if possible. However, you should avoid setting up your desk with the sun shining directly into your eyes or onto the monitor, and you may also want to think about how your lighting works for video calls – with the light directly behind you, your colleagues may struggle to see much more than your silhouette. Ensuring your desk is evenly lit will reduce strain as you move your eyes from your screen to other items.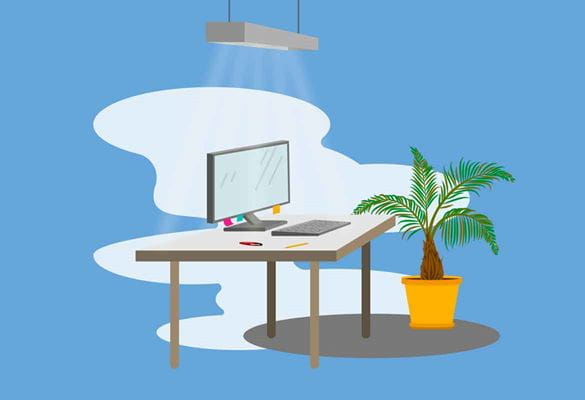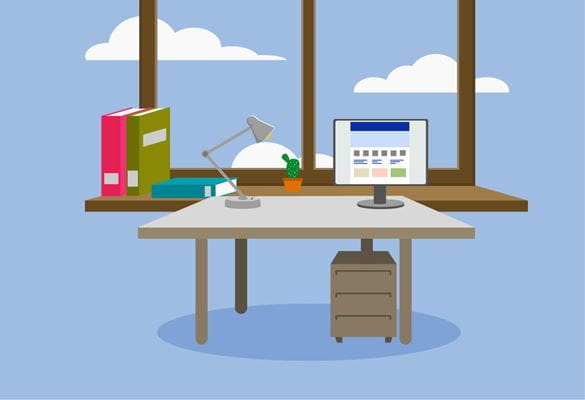 Keep your home working space free of clutter
Whether you're working from home alone, or sharing your desk with others, things can begin taking over your workspace quickly. Get into the habit of clearing up your desk at the beginning or end of each workday to help you focus, only keeping your most frequently used items on your desk and keeping smaller items such as paperclips, pens, and sticky notes in small containers.
Home office organisation – create a filing system
Resisting the temptation to print every document will limit the potential for paperwork to begin piling up. However, there are times when only a printed copy will do. For these occasions, using a simple filing tray helps to keep important paperwork accessible – if you need to refer to these regularly you can use drawer storage or labelled boxes to file as you go and keep your workspace clear.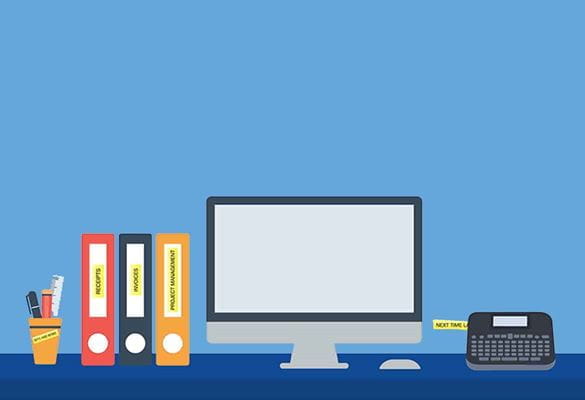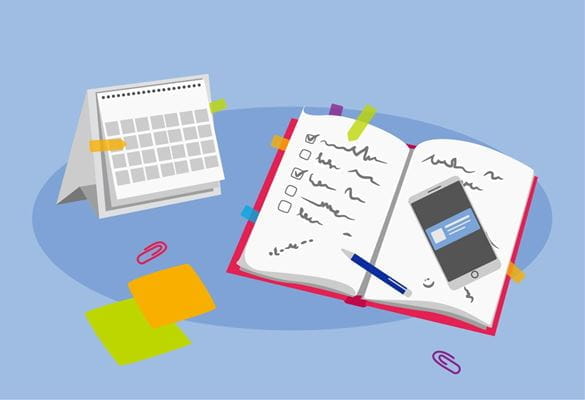 Maintain a schedule
Make sure your schedule reflects your standard working practice as much as possible. There are proven benefits to sticking to your usual routine. Here are some tips:
Adhere to your usual work times – and avoid allocating work tasks for the evening
Share your work schedule with others in your household to avoid interruptions
Take a break every hour to allow you to maintain a healthy working practice.
Separate your home and workspace
The lines between work life and home life can become blurred quickly – making sure that you have somewhere that you take a break or otherwise step out of the office. This is imperative for the long-term sustainability of working from home. Setting up your home office up in a separate room allows you to visibly switch between your professional and personal life. If a separate space isn't available, dedicating a work-only area of your room can do the job work as well.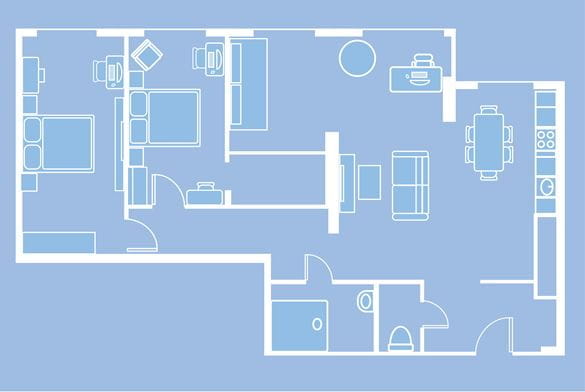 If you are looking for ways to improve productivity, cost efficiency, sustainability and reliability within your office, Brother provides business transformation solutions designed to empower businesses to make long-lasting change in adopting more effective processes and delivering a better experience for staff and clients. Whatever the scale of your business, our wide range of business solutions will help to transform your business.
For more information or for specific advice on products, get in touch with our team. This article has been republished from Brother UK with minor changes.