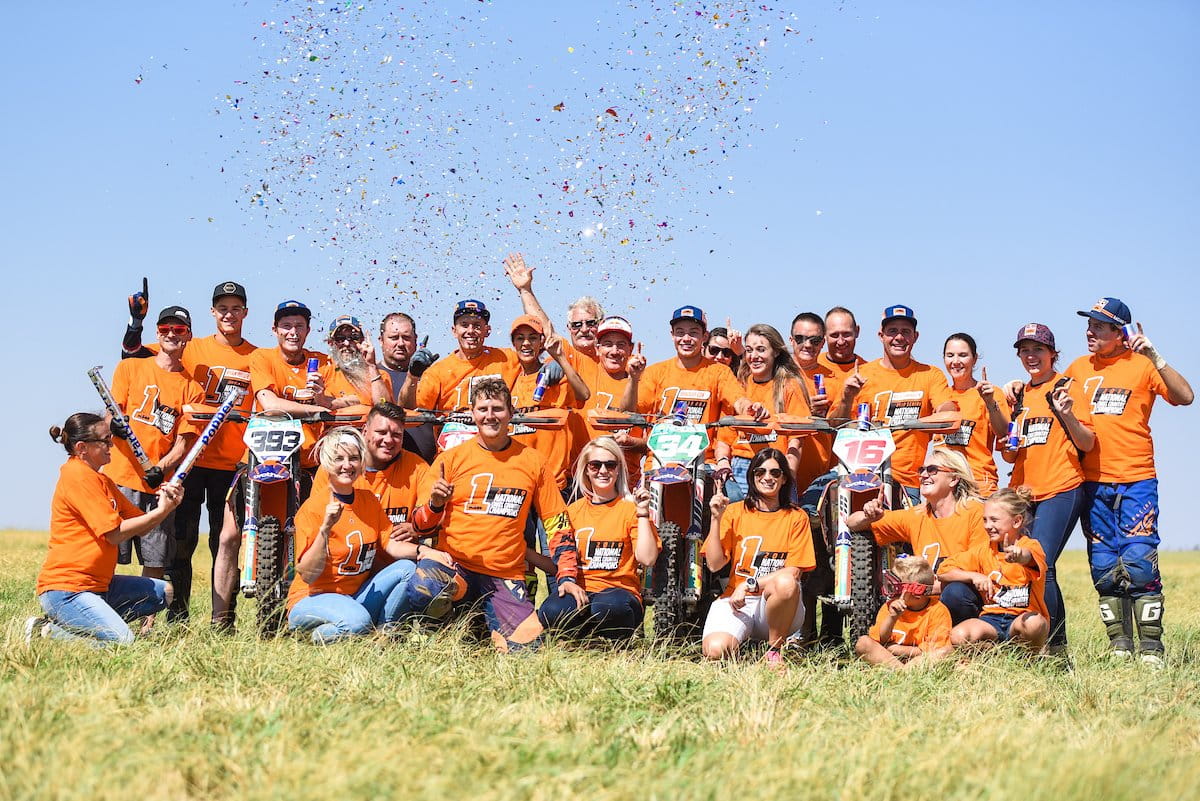 KTM dominates National Cross Country Championship
KTM South Africa completed its dominance of the National Cross Country Championship in Bronkhorstspruit on Saturday. Not only did the orange brand walk away with the 2019 Manufacturers Award, but a total of five national titles.
11 November 2019, Tshwane – It was a nail-biting end to the season with almost every one of the championships coming right down to the wire. In the OR1 Class, Brother Leader Tread KTM's Louwrens Mahoney entered the double-header event just three points ahead of teammate Ross Branch.
In what was described as one of the most physically demanding races of the season, Branch was forced to retire from the event after sustaining an injury. With the 2020 Dakar Rally looming, the rider was relieved to discover that he will be able to get back into the saddle after two weeks of rest.
From the moment Mahoney set off from the start line, it was clear that he was prepared to pull out all the stops in his pursuit of victory. It was an emotional moment for the multiple national champion as he stormed to a hard-fought victory on Saturday onboard his KTM 450 XC-F machine where he was crowned 2019 National Cross Country king.
Fans soon discovered that this would be Mahoney's 7th and last national title when he officially announced his retirement from racing.
"I couldn't have asked for a better way to finish the year than taking one more national title. This is a massive blessing for me, especially because I have decided to hang up my racing boots. As the new marketing manager of KTM South Africa, I have stepped into a new season of my career. I can't thank my wife and the Brother Leader Tread KTM team enough for the opportunity they've given me to pursue my dreams," said Mahoney.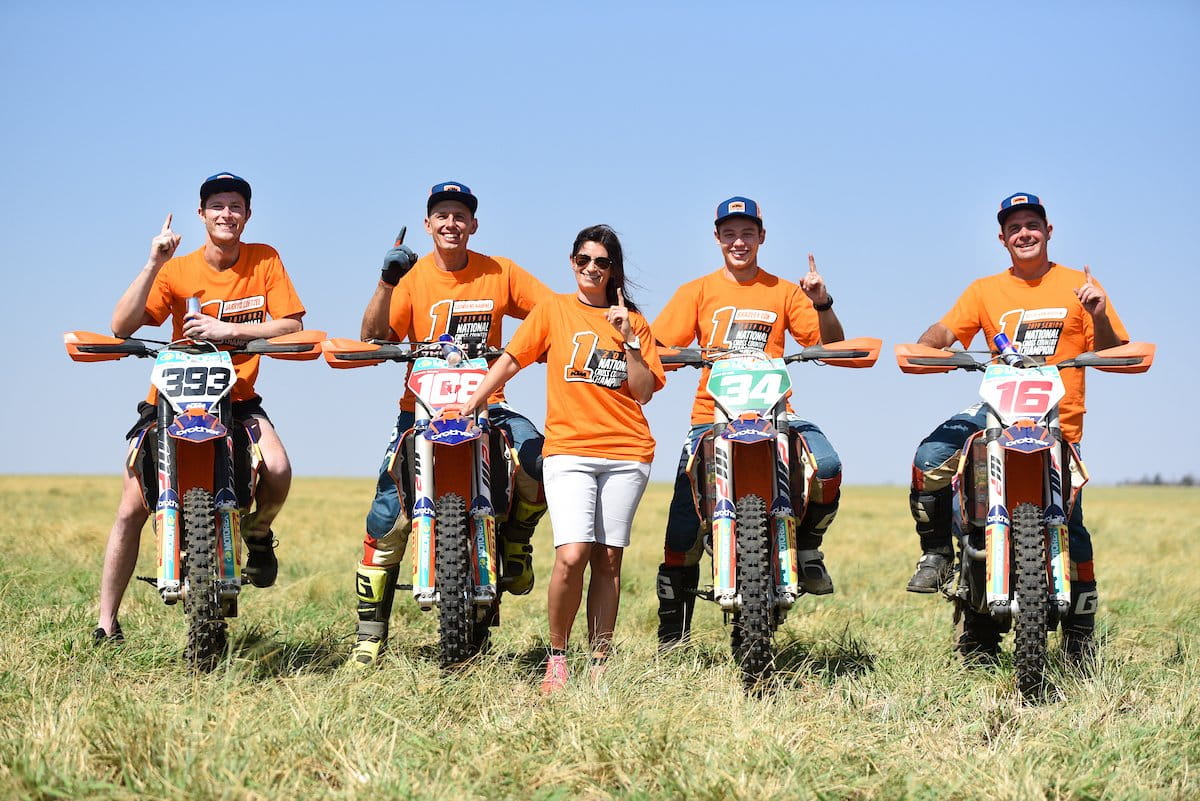 The celebrations at the orange camp didn't stop there. In the OR2 Class Jarryd Coetzee managed to close the seemingly insurmountable gap of 13-points to the top step of the podium.
Coetzee snatched victory at both rounds of the double-header season finale, but the championship title would only be decided by the number of riders that finished between him and his championship rival Gareth Cole.
One of the riders that helped bridge the gap was Coetzee's own teammate, Louw Schmidt, who raced his heart out to finish the event in third place in class. After minutes that felt like hours at the finish line, it was an unforgettable moment for Coetzee when he realised that he would officially take the 2019 OR2 crown.
"Like they say – it's not over until the fat lady sings. The chance of winning the championship was so slim coming into this round, but there's a lesson I took from this – never, ever give up no matter how impossible the situation looks," said Coetzee.
It was a ground-breaking victory for Bradley Cox in the OR3 Class as he received the first National Cross Country title of his career.
Like Coetzee, the chance of an overall victory was uncertain as Cox entered the double-header event.  He'd received a DNF at the previous round of the series after breaking his collar bone and was 9 points behind fellow KTM rider Haydn Cole.
Cox managed to take the win on both days of the event. It was not only a proud moment for the rider, but for his father and motorsport legend Alfie Cox.
"I started my career with a motocross dream, and never imagined that I'd be experiencing a moment like this. I have unbelievable support back home and couldn't ask for a better mentor than my Dad," said Cox.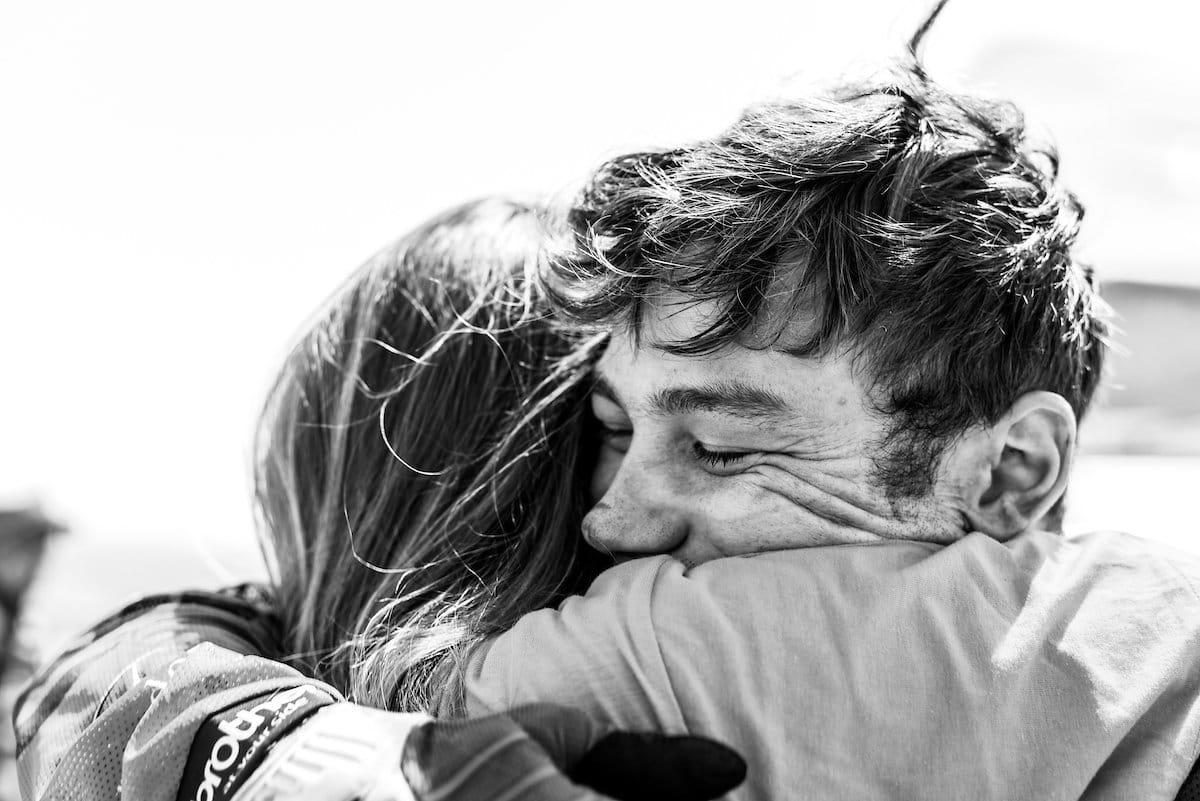 Rounding out the list of national victories for Brother Leader Tread KTM was Juan 'Bollie' van Rooyen, who for the sixth consecutive time managed to defend the Senior title.
"Victory always gets sweeter, but it definitely doesn't get easier!" joked van Rooyen.
A cherry on the top of a day that will not soon be forgotten by KTM South Africa was an impressive performance from Ryan Pelser who won the High School Championship.
"What an incredible season we can look back at as it all came down to the wire at this last round of the championship. This is not just any other team you've ever seen, the Brother Leader Tread KTM squad and their stable mates are one big orange family and some of the toughest riders who are never afraid to battle it out on the track. To see all the efforts come to fruition and taking home and array of championship titles this past weekend is just the cherry on top. A huge 'thank you' goes out to all the sponsors and supporters, to the mechanics and families behind the scenes and to the organisers who give us the platform to do what we do best. 2019 has been one hell of a season and we are looking forward to what 2020 will hold in store for us.", says Franziska Brandl, Managing Director KTM South Africa.
Brother International South Africa
Brother is a leader in the development and manufacturing of technologies in the printing, scanning, labelling, sewing and crafting industries for home, SME and Corporate markets. A trusted brand worldwide that believes in the "Customer First" approach in all aspect of our business, Brother has continuously met the varied needs of our customers through our comprehensive range of technology solutions.
Brother International South Africa (Pty) Ltd is the regional sales office for South Africa and markets a range of products manufactured by its parent company, Brother Industries, Ltd. of Nagoya, Japan. Established in 1970, Brother International South Africa (Pty) Ltd manages an extensive network of distributors in both domestic and Sub Saharan markets.
Brother's printing business is committed to the advancement of technologies and "work style innovation" and constantly strives to pioneer new technologies and improve product quality. The different types of technology Brother offers are convenient to use and helps streamline workflow and efficiency in corporate, SME and home environments.
About Brother Earth
Brother always takes responsibility, acts respectfully and tries to make a positive difference. Brother Earth is Brother's attitude and commitment to play a part in building a society with sustainable development. Help the environment now by giving a click at http://www.brotherearth.com. Brother will contribute to a variety of global environmental protection activities on your behalf. The number of clicks each project receives will determine proportionately how the funds will be allocated.