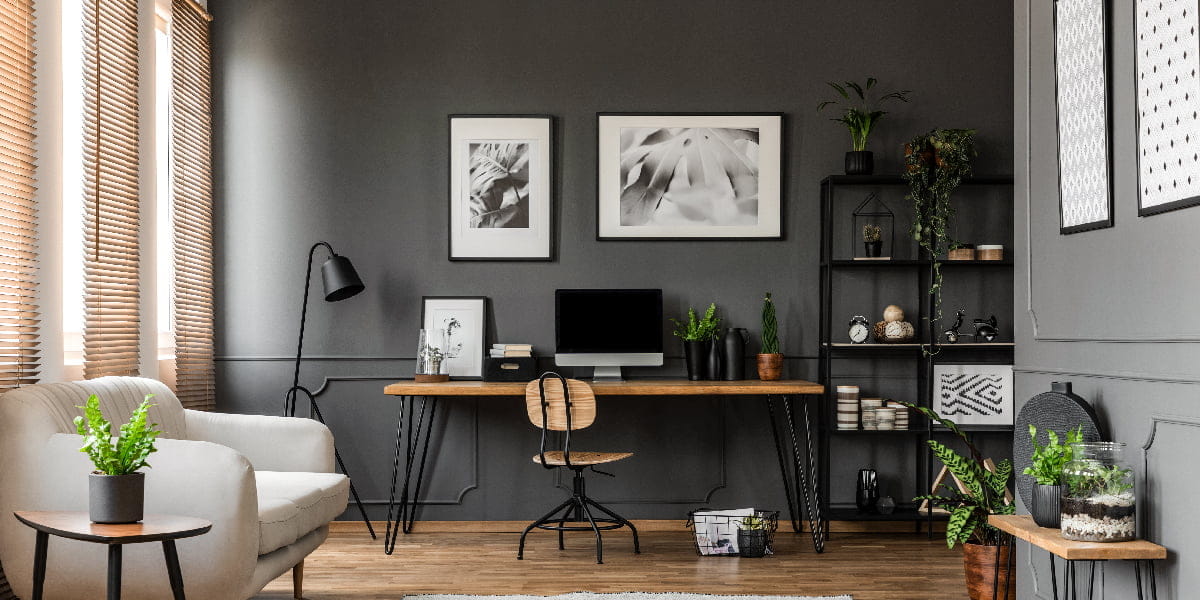 What you need for your home office setup
Are you looking to make your home office productive and comfortable? Here's our list to streamline your working from home environment.
With the current health advice from our government to practice social distancing, it's easy to fall into a pattern of waking up, working and going back to bed without leaving your home (and some of that relates to the fact there aren't really many other options right now either). This pattern can generate the feeling of still being 'stuck' at work at the end of the day and can increase the prevalence of burnout and fatigue. So, this is what you can do to create the best home office space.
Set up a designated home office space
To help combat this, designate a room or space within your home that is strictly for work related tasks only. If you can physically close the door on that space – great! Otherwise, work with what you have – a desk in the corner of a room, a dining or kitchen table, just try and use this space for working only or pack away your work gear at the end of the day. The best advice? Avoid working in your bedroom or living area – keep those "work spaces" and "leisure spaces" separate.
Create an office space that has natural light and greenery
Ensure you've got some natural light streaming into your work space – multiple studies have shown that having exposure to natural light has a wide range of health benefits, including benefiting the function and reading ability of your eyes, and triggering critical signals in your endocrine system to help manage sleep, your moods, and your immune system. And, to get you psychologically engaged for better work, studies have shown that you're 15% more productive when your workspace has some plants. So, get engaging with your surroundings and water your plants to promote your own happiness!
Make sure you're comfortable
There's little value in creating the perfect home office setup when you're just not comfortable sticking in it for too long!
Traditional or standing desk?
This really comes down to your preference or the type of work you're doing. For a healthier option, consider an adjustable desk, where you've got the option to switch between the two. Standing at your desk as much as possible keeps you on your feet, effectively burning calories and positively impacting your health and weight by reducing your risk of developing heart disease, diabetes, stroke, and cancer that's brought about by a sedentary lifestyle. Not only that, it also helps to reduce your risk of upper neck, back and shoulder pain, bad posture, and spinal injuries that can be caused from sitting incorrectly for extended periods of time.
However, if you need space for lots of files and folders, or prefer sitting while you work, a traditional desk is more for you.
Ergonomic office chair
If that's the case, it's important to have an ergonomic office chair to avoid developing the aforementioned upper neck, back and shoulder pain, bad posture, and spinal injuries.
A well-designed chair will support your body shape and the development of proper posture so you can continue working throughout the day without those strains and pains appearing sooner rather than later.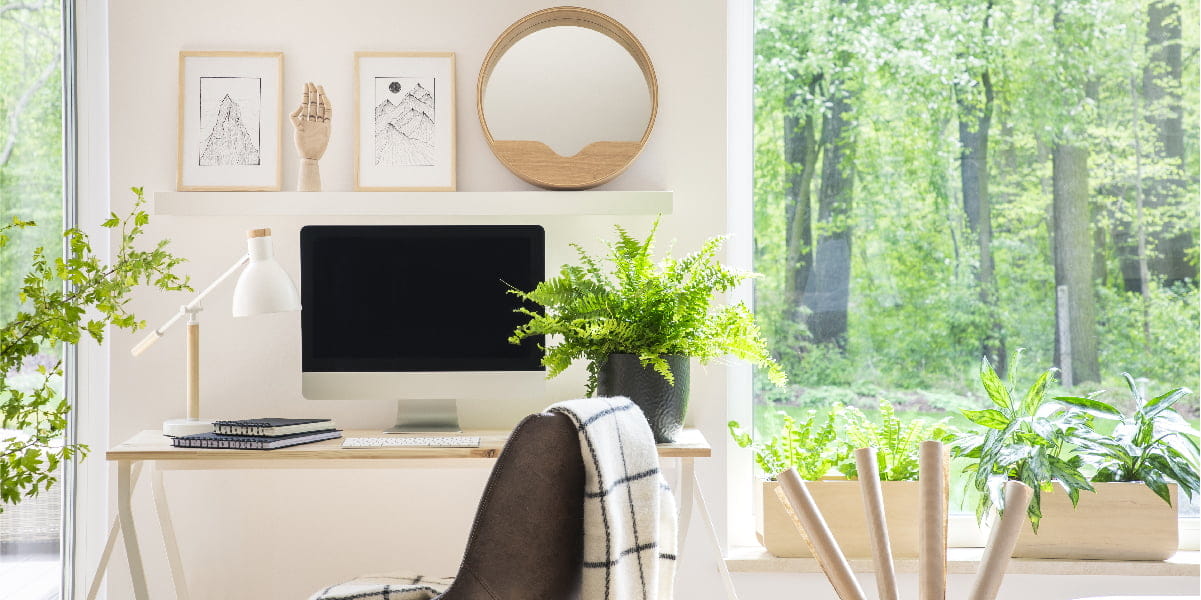 Setting up your home office
Get reliable technology and have a backup plan
Technology helps us work smarter, but when it's having a bad day, you're having a worse day. Make sure you implement technology you can rely on so you can get through your work day without any hassles. When it comes to technology that's critical to your work, it's good to have a backup plan as well. What you'll need:
Internet Access
When your brain is working faster than your computer, it's thanks to an annoying internet lag that just won't go away. You become frustrated and any motivation you had to complete your task has flown out of the window. So what can you do?
For a home office setup, we find it's important to choose an internet service provider and plan that offers at least 50mbps download speed, at least 10mpbs upload speed and most importantly a backup 4g connection (offered by some ISPs). What this means is:
You can work efficiently with your cloud services, work portal and stream video content with fast download speeds
You can be professional during video conferences and share your screen without a lag due to having sufficient upload speeds
If your internet is down (which is often out of your control) you will have a backup 4g connection to your Printer, Scanner or Multi-Function Device.
Printer, Scanner or Multifunction Device
You probably don't realise how much a printer or scanner is part of your working day when you're in the office where everything is at your fingertips – as we always say, the best printer is the one you don't notice! However, when you can't print or scan that 'one thing' you really need in the moment, productivity starts to sour pretty quickly.
Having the option to print and scan from your home office set up is a huge productivity bonus – not to mention the time and money savings from trying to find an alternative to complete your work without a printer or scanner.
Purchase a device that provides the functions you need – ask yourself:
Multi-Function devices are ideal for home office setups where you have limited space as all functions (print, scan, copy, fax) are included within the one device.
It's also important to establish how much printing you expect to do. If you're only printing a few letters or invoices per week, an everyday inkjet or ink tank printer is all you'll need. However, if you're going to be utilising that device in all its glory, a laser printer with high print speeds and duplex functionality may be your best bet.
Remember the cost of ink or toner cartridges before you purchase as well. It is likely that purchasing a more expensive printer with lower operational costs will save you a considerable amount of money in the long run.
There are plenty of options available – just make sure you select a device based on your needs so you're not paying for a whole lot of features that you won't use.
Paper shredder
It's really easy to dispose of confidential documentation that you no longer need when you're in the office with full access to the paper shredder. Don't forget working from home doesn't make you any less exposed to privacy and security breaches – invest in a small paper shredder to keep your business safe and secure.
Smarter smart phone use
In your home office setup, we find it's much more efficient if your communication apps can be used on your work computer as well. For example, if your company uses a messaging app such as Whatsapp to communicate, you can download the desktop app (supports Windows and Mac) so you can read and reply to messages quicker from your computer without having to switch to your phone.
Furthermore, sometimes your colleagues may send you web links in your chat but you want to view the page on your computer. Having these desktop apps means you can simply click on the links and view them on a browser on your computer. You can also do the same with SMS for Windows and Mac – make sure you find out how to set this up depending on the type of smart phone you use.
Video conferencing tools
Although we're physically apart, sometimes the old phone conversation just isn't enough and we need to visually connect with our colleagues to not only continue collaborating and inspiring each other to benefit the quality of work we produce, but also for our mind health – we're only human!
There are multiple instant messaging and videoconferencing tools that can help us achieve this, including Zoom, Skype and Microsoft Teams. Ensure you utilise these tools as much as possible – and even better, they take up no room in your home office!
If you don't have a webcam for video conferencing, you don't have to waste money buying one – use your smartphone! There are apps on the Apple app store and Google Play Store which allow you to connect to the camera on your phone either by USB or over your Wireless Network. It depends on which smartphone you own, but they generally provide better video quality than standard webcams.
This article has been republished from Brother Australia with minor changes. The original article can be seen here: Home Office Setup:What you need when working from home