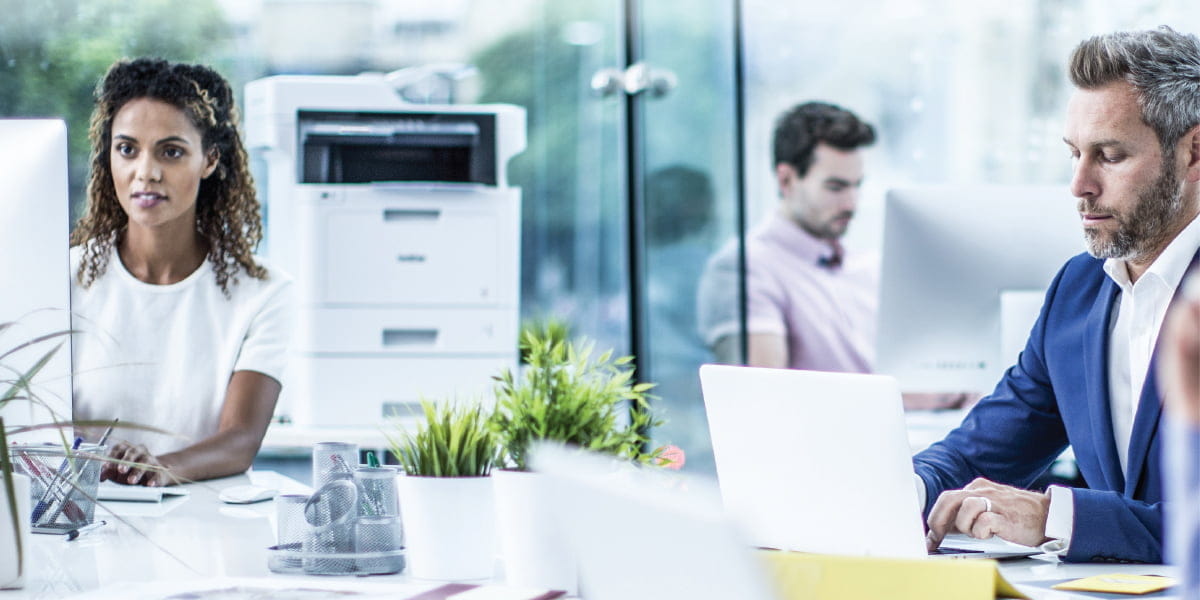 Effortless Fleet Management at your fingertips
Brother BRAdmin Professional 4 Fleet Management Solutions
As your business grows, so will your printing needs. Many companies have more than one Multi-function Centre (MFCs) and printer in their offices. Due to the fact that the workflows and print demands of today's businesses grow increasingly complex, it can become extremely inefficient and time-consuming to manage, configure, optimise and update each individual device one at a time. Imagine having to physically manage different devices in multiple locations. Therefore, to optimise your office printing and imaging infrastructure, centrally managing your print fleet is a more cost and time efficient solution.
Brother's BRAdmin Professional 4 is an innovative fleet-wide management solution that helps to optimise your business productivity and IT resources, putting total control and accountability firmly in your hands.
Designed to provide real-time, fleet-wide management across your company's network infrastructure, BRAdmin Professional 4 is ideal for businesses with a growing suite of printers across multiple locations. By allowing you to centrally manage your printers from one location, this simple-to-use tool will help to reduce downtime and optimise resources, so you can focus on the more important aspects of your business.
Status Monitor
Experienced the annoyance of sending a print job, waited a few minutes, and nothing happened? Was it only then that you realised that your printer needed more paper or supplies replacement? Status Monitor allows you to receive instant alerts through your computer whenever your Brother device needs attention.
Enjoy greater visibility over your fleet
The user-friendly dashboard allows you to glance and know which printer is ready, sleeping, or low on supplies for greater visibility over your fleet. Furthermore, you'll receive real-time notifications via email, reducing down-time to a minimum.
Maximise efficiency and reduce costs
BRAdmin Professional 4 gives you the freedom to leverage on real-time usage information to optimise your fleet. It displays live page counters from each network-connected device, helping you understand which devices are being under-utilised, so that you can deploy them accordingly.
Greater access to your entire fleet
BRAdmin Professional 4 fleet management software is completely free of charge and is available as an executable program you can install on your computer. Alternatively, you can run it on a web browser through an Embedded Web Server and start managing your Brother printers from any computer on your network.
Empowering your productivity
Ideal for a large suite of printers spread across multiple locations, BRAdmin Professional 4 saves your organisation's IT administrators the effort of having to physically visit every printer whenever it requires attention. This results in less printer downtime and more productivity from your staff.
Import and export your device settings across your fleet
Save your IT administrators from tedious processes. A sub-feature of the BRAdmin Professional 4 utility lets you save selected settings to an exportable file, which can then be re-imported to multiple devices simultaneously. This allows you to update your entire fleet quickly and effortlessly.
Setting up BRAdmin Professional 4 is simple. Download the firmware from Brother solutions guide and set up the network IP addresses range for all your printing devices. BRAdmin Professional 4 will detect all the printers in your fleet.
BRAdmin Professional 4 works well with network-connected Brother devices. It only supports Windows operating systems, works best for Windows 7 and above.
Find out more here.
Or download your free BRAdmin here